for a Classic Athenian Neighborhood
Athens BlueBuilding brings a splash of style to a neighborhood on the cusp of a new tradition. The large neighborhood known as home to the Panathenaic Stadium crackles with restaurants, cafes and cultural highlights such as the Goulandris Museum, opening fall 2019.
Many of the apartment buildings in Pagrati are of the polykatoikia, or typical Athenian apartment block style but Athens BlueBuilding brings a colorful counterpoint to those. With Athens BlueBuilding the renowned Athens-based architectural team of Demetrios Issaias and Tassis Papaioannou has literally elevated the stature of Efranoros Street, one of the main streets of Pagrati (its "other half" is Eratosthenous Street, which slopes downward from little Plastiras Square leading to the busy Leof. Vasileos Konstantinou boulevard and southern entrance to the National Garden). Papaioannou has said "buildings are never neutral but rather every one of them speaks in a revealing fashion about the causes that bring them to life." Here, we have a bright pop of color in an urban district teeming with activity, thus amplifying the whole sensory experience.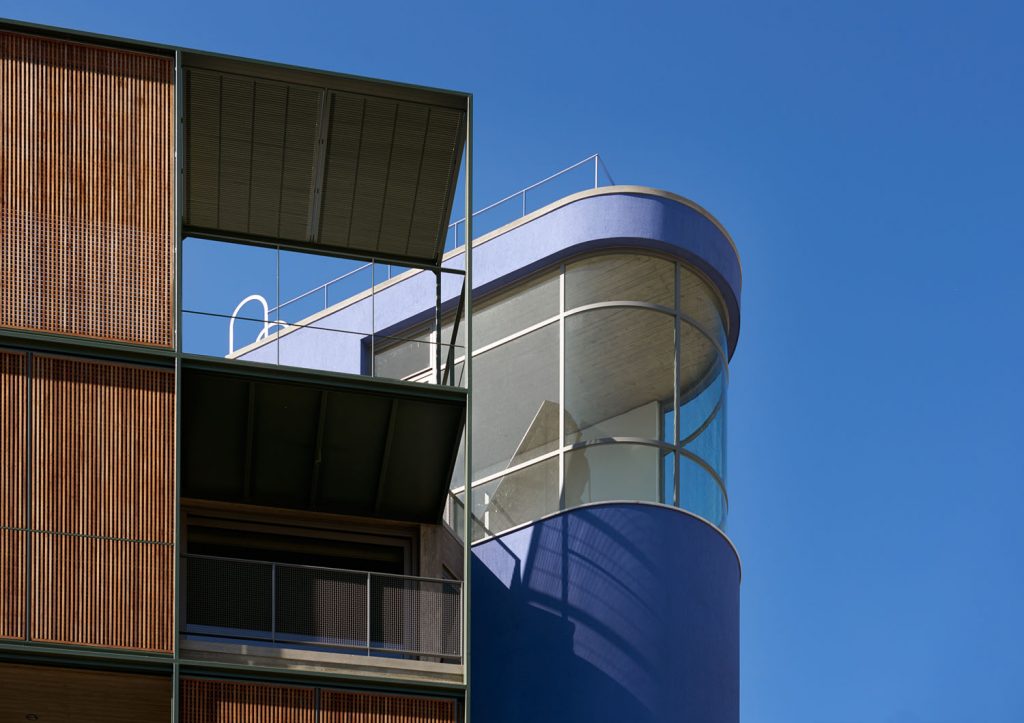 It's an organic addition to a neighborhood that celebrates eccentricity, discreetly but resolutely. The bohemian spirit of the bars and cafes along nearby Archimidous Street (right behind the stadium) and Varnava Square seem to invite new wrinkles on classic urban aesthetics. Here on Efranoros Street (named for an ancient Greek artist, by the way), an irregularly shaped plot of land in an already crowded area created some unique, Manhattan-style challenges for the architects. But it mean there could be balconies in both the front and back of each apartment. The semi-cylindrical central staircase, is projected as a separate element of the whole composition, with its exterior painted blue which makes it a fitting complement to the blue of the Athens sky. The sliding wooden façade screens provide not only protection from the strong sunlight but also optical isolation from the buildings across the street. Add to this an expansive roof terrace with sweeping views of Ardittou Hill, the Acropolis and Mount Lycabettus and the effect is that of having a calm and aesthetically refreshing perch in the heart of the city—a place to rest and recharge before exploring all that Athens has to offer
Artful Accents at Athens BlueBuilding
Among Greek contemporary artists in the postwar period, none has left a bigger mark on the Greek capital than Alekos Fassianos. Born in Athens in 1935, the "Fassianos look" is instantly recognizable thanks to its singular but ever-evolving iconography blending references to Greek mythology and ancient painting with evocative allusions to the history of modern Greece. He has been variously inspired by gods and goddesses, by the traditional Greek "karagiozis" folk puppets, ancient ruins and romantic café tables. With Fassianos the "myth of Greekness," however open to interpretation that may be, is something in which to revel. The light-drenched Greek summer, a rider on a horse frolicking next to the waves, a handsome sailor or a voluptuous couple in love: through his art he awakens the full spectrum of the Greek spirit, often in vibrant splashes of blue or red or even gold leaf. Bees and fish, peaches and dragons, all part of the physicality and also unseen energy of a Greek island getaway and all making appearances in the artist's richly varied typologies. You may have spotted his winged and buff bronze male figures eyeing each other underground in the Metaxourgio metro station, or a coppery cutout of a more contemporary Athenian man about town with flowing scarf and bicycle rising above the urban fray on Aiolou Street. Classical ideals, modern accoutrements: Whenever you are in central Athens today, you're really in Fassianos country.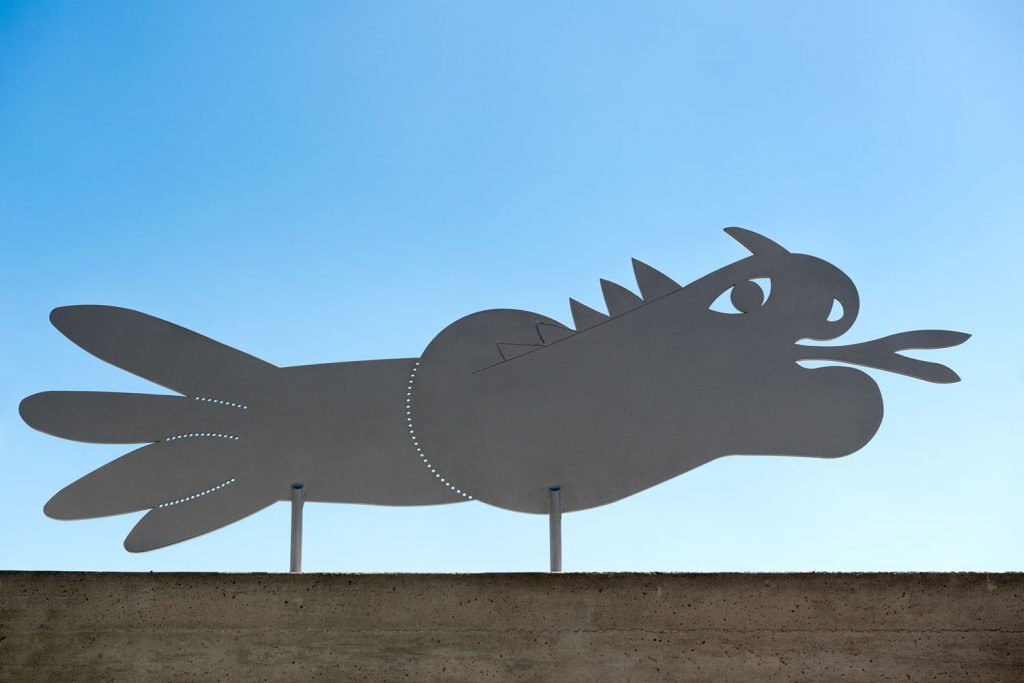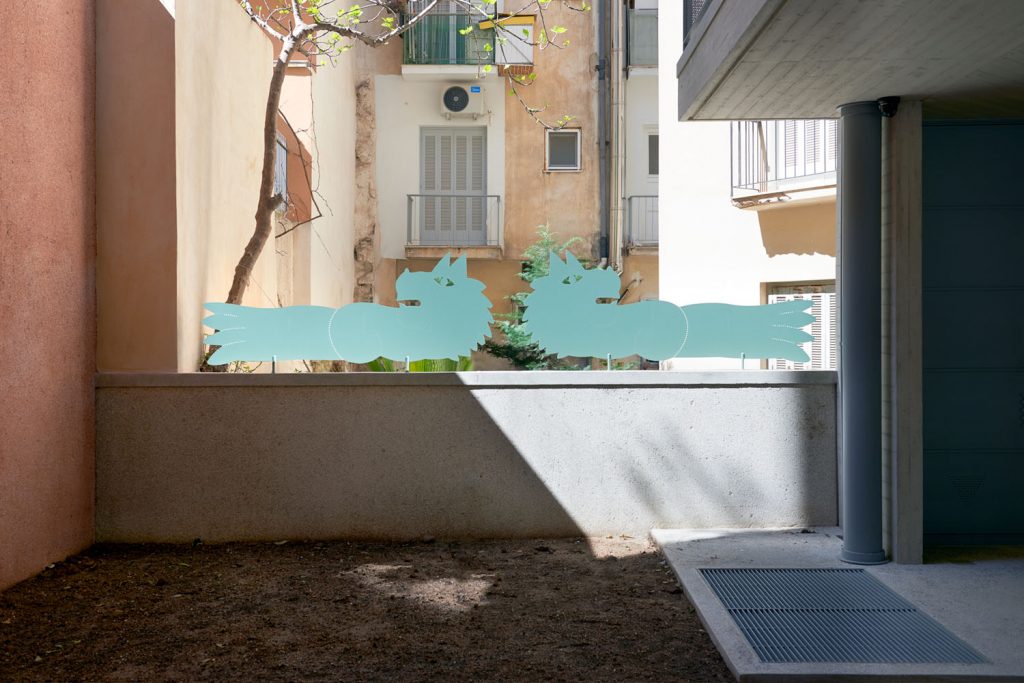 The artist has lived in Paris, of course—Fassianos has also been honored by the French Government with the Grand Cross of Knight of Arts and Letters— but Athens is the city Fassianos calls home. Which makes a sojourn of any length at Athens BlueBuilding not only a way to experience Athens at its most unequivocally Athenian, in the heart of the Pagrati neighborhood that's always brimming with life, but also to enjoy some of Fassianos's unique artistic flourishes, such as the larger-than-life metallic blue heads sizing each other up at the building's entrance, or the stylized dragons doing the same but above a viewing bench on the rooftop, with the Acropolis in the distance. Writing in "For a Deregulated City" in 2004 Fassianos said "there is great anarchy in our city. If there were some kind of discipline in building then the whole town would make more sense," adding that "it might be nice for people to walk into a metro station and see interesting designs, or a bench designed so that it makes you want to sit there—things to make the urban environment more attractive."
At Athens Blue, the anarchy of the Athens metropolis is gently held at bay and gets an aesthetic reboot too. In concert with the creature comforts of the apartments, it is both a restful and revitalizing way to stay. "Papaioannou [the architect behind Athens BlueBuilding] and I have a shared sensitivity," Fassianos says—"even knowing that we cannot save the world, we can perhaps give people a brighter outlook on tomorrow."